Monday, June 19, 2006
COMFORTGHAN IS FINISHED!
The comfortghan, which I made into a pillowghan, has been finished and delivered to Cindi. She was very touched by it. Thank you everyone who contributed squares. Each of you have been mentioned on this blog.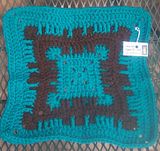 I did receive a 14th square, however, which I hadn't acknowledged here yet, so please let me do that. Gracie Ogle sent this beautiful teal and brown square. Thank you so much, Gracie!



And Babsie and Glor, thank you for the totes you made. Babsie, I think the one you sent is still sightseeing on its trip around the world. Thank you, Glor, for jumping in with another one. I forgot to get a picture of it, but thank you!

And here is the comfortghan/pillowghan completed!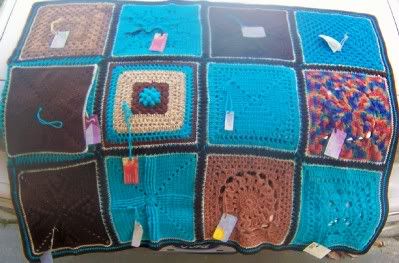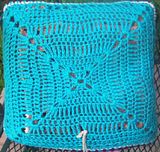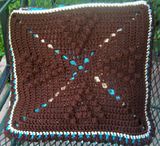 And here it is folded up into a pillow, back and front!

I think it turned out really lovely, as does hubby. He wanted to keep it! But then he's wanted to keep each one I've assembled. Do you think I should make my hubby an afghan with 12" squares?.....
Saturday, June 03, 2006
"MADE WITH LOVE" CHARMS
Friday, June 02, 2006
MORE SQUARES!
Tuesday, May 30, 2006
TWO MORE SQUARES!
Saturday, May 27, 2006
7 SQUARES RECEIVED!
A COMFORTGHAN'S STORY