Tuesday, May 30, 2006
TWO MORE SQUARES!
Today's mail brought two more beautiful squares for Cindi's comfortghan!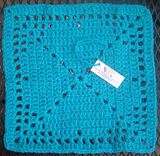 Square #8 is from Carolanne Perez.

Square #9 is from Mary Carroll.

Thank you, Mary and Carolanne! Your squares will be lovely additions to this comfortghan.

And with these two squares, and three which Tina has made and is mailing, this comfortghan can now be assembled! Thank you everyone for your caring touch and thoughts and prayers towards Cindi. I cannot wait to show you the end result!

Stay tuned!