Friday, June 02, 2006
MORE SQUARES!
Thank you to Tina P. and Kate S. for their squares today!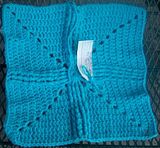 Kate Sites sent this beautiful turquoise square. Thank you, Kate! It blends perfectly! I also found your personal note to Cindi and will be sure to pass that along with the comfortghan.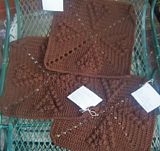 Tina Pryst sent these 3 chocolate brown squares which really go well with the turqoise squares. Thank you, Tina! And thank you, too, for the postcard! What a BLUE sky Colorado Springs, CO enjoys!


I only received one square over the normal 12, so I'm thinking of still using that 13th square and using it creatively by making a pillowghan...an afghan that can be folded up into a pillow. I need to refresh myself on the technique and then I'll give it a try. I just hate not to use ALL of the squares that you fine donors contributed!!!

I'll, of course, let you all see the result after it's finished!